The new ScanNav Routing module is available in ScanNav since version 17.0.
Routing takes into account the following points:
Choice of the GRIB file and the boat Polar file
Consideration of tidal currents. The information is based on the SHOM data or currents in GRIB form
Possibility to apply a percentage ratio to polar, weather or current information
Possibility to take the engine into account (sail only, mixed sail and engine, or engine only).
Takes in account Shorelines, and/or user defined danger areas
Possibility to apply Tack and/or Jibe penalties
Possibility to avoid areas above a user defined Wind strength
Possibility to define upwind and downwind limit angles, to avoid uncomfortable points of sail
Multi-point routing
Best Start calculation added in version 17.1
Route Plan and Best Start Tables
Ability to interact with the routing graph to find alternatives
Export of the final route, and route plan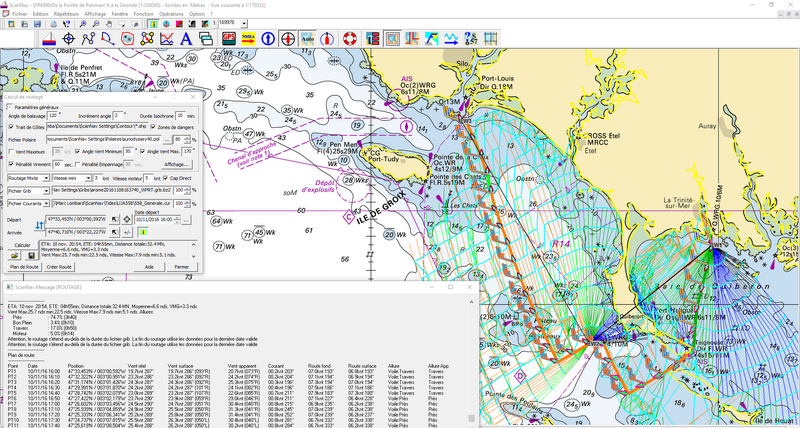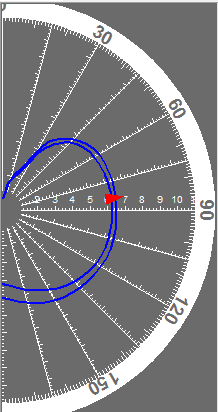 Polars:
The routing module also includes a Polar module which, in addition to the polar management aspect for the routing, allows to visualize the performances in a dedicated repeater, in real time with respect to the theoretical polars.
The Display shows where the real-time performance is.
On the graph, the red triangle is the boat.
Theoretical performances are the blue curves (the 2 curves being those defined in the polar file, with the wind immediately lower and higher than the actual instantaneous wind of the anemometer).