28/6/2020: New version 3.0 available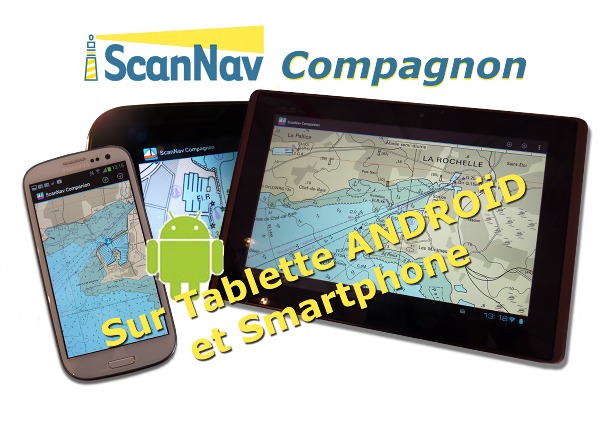 ScanNav Compagnon is an Android version issued from our knowledge on developping the Windows version of ScanNav, and on users needs. It supports both Android phones or tablets devices, starting from Android 4.0 "Ice Cream Sandwich", and up to the latest version (10.0 "Q" at the time of writing).
This version is dedicated to charts from our Raster SnMap offer. It is completely free of charge for ScanNav users who already have a Raster SnMap chart pack. Users wishing to use only the Companion version for Android just need to acquire the charts.
Main functionalities are:

Very fluid graphic rendering of charts in Seamless mode.
Intuitive ergonomics with multi-touch.
Creation of waypoints and routes.
GPS Navigation with recorded track, target waypoint followup, and configurable repeat displays (Speed, Heading, ETA, etc...)
Usage of internal GPS, or any external NMEA183 source via wifi (lets you run on low cost tablets without integrated gps) (wifi support from version 2.9)
Management of objects data bases (wrecks, ports, etc...) in layers, with Search and Filter capabilities
Auto-Save and GPX file import/export
Interface available in French, English, and German (and auto translation for Spanish, Portuguese, Italian)
For more information on ScanNav Compagnon and the installation procedure, please visit the documentation here: DocSNCompagnon.pdf (automatic translation from French)
Downloads
Please read the documentation related to installation before downloading.
Latest version of the installation package (3.0 build 44):
Download of charts, including basic and demo charts is now integrated into the software, and you no longer need to download them independently. You can however still access them on this page:
Versions history
16/07/2020: 3.0 build 44
Correction of minor bug: impossible to hide the Depth display
06/28/2020: Version 3.0 build 43
Full review of charts installation
Managing new restrictions related to Android permissions
Easy access to external SD cards
Using the latest Android frameworks
New repeater for the sounder
Performance improvement
Various improvements and bug fixes
New ScanNav Logo
First version released in 2012