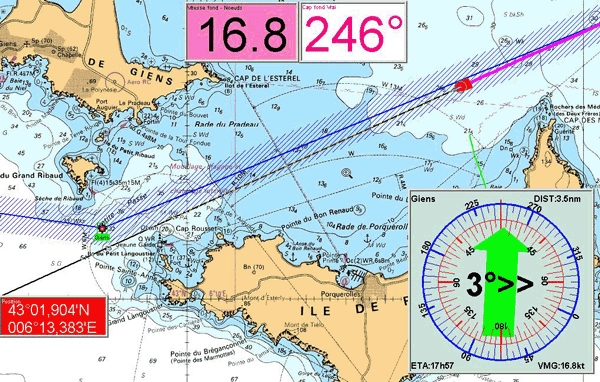 A
simple AIS receiver
Connected to your pc will give you information on ships in a range of 25NM (VHF antenna). Position, heading, speed, rate of turn every 30 seconds and more complete information such as the name, status, type of vessel, destination... every 6 minutes.
Detected boats are shown on the map and/or in a text list logging all their information. ScanNav manages an anti-collision system with visual and/or audible alarms according the other vessels routes compared to your own.
All displayed items and alarms are fully customisable.
an A.I.S. transponder (transmitter) is compulsory on all ships above 300 tons
In addition to the functions linked to AIS, the module provides exclusive functions linked to DSC (Digital Selective Call) of ICOM VHF, as well as functions linked to ARPA radars.
See the interactive presentation below for more details.
Presentation of the functionalities of the AIS module
To manually control slides, use the controls below the presentation. Please note that although some screenshots in the presentation are in French, the software is fully available in English.