Extended coverage of the Caribean pack
in October 2018 edition
---
This raster charts offer is derived from data provided by the SHOM and UKHO. Charts are updated twice a year. Although the look is similar, they are not scanned from paper charts, but issued from the printing films, which eliminates manipulation errors, and facilitates regular updates.
Charts from the new pack covering Italian coasts are derived from the I.I.M. (Italian HO), through the Navimap company (updated once a year).
Each pack includes the integrality of existing paper charts, and is sold 99€ by download.
The Planning Charts pack is available free of charge for any license up-to-date of less than one year.
Charts updates: Updates are free for one year, and half price after (49.5€ per pack)
Compatibility: SnMap charts are compatible with the following software: ScanNav and ScanNav Compagnon (Androïd), as well as Adrena starting from version 12.
Click on each area to see details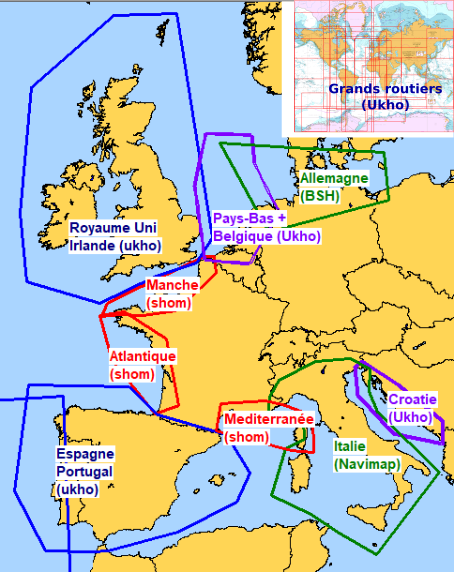 To Download your packs, click here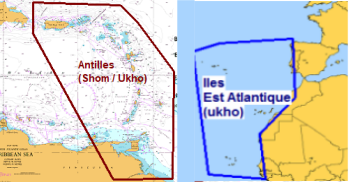 The following 3 packs are derived from the geotif provided by the SHOM:
- Channel Sea French coasts
- Atlantic French coasts
- Mediterranean French coasts

The following 6 packs are derived from data provided by the UKHO:
- United Kingdom + Ireland coasts
- Netherlands + Belgium
- Spain + Portugal coasts
- East Atlantic Islands
- Croatia
- Planning charts

The following pack is derived from data provided by the UKHO, SHOM, and NOAA:
- Lesser Antilles

The following pack is derived from data provided by the I.I.M. (updates by Navimap):
- Italian coasts

The world-wide SHOM coverage except for facsimile charts (French responsability areas) is also available on command, and on a per chart basis. Please contact us by mail for this purpose, specifying the charts reference numbers you need. (chart numbers are listed on the SHOM "Grand Catalogue" available here:
http://www.shom.fr/les-services-en-ligne/ouvrages-en-telechargement/le-grand-catalogue/
)
---
(*) This offer requires ScanNav
version 14.1SP2
or higher (version 12.1 is compatible up to charts edition October 2014). Updates are free for ScanNav licenses not older than a year, or available at 25€ for older licenses.
Select a pack, then click on chart numbers for a preview of each map.